Children cannot be what they cannot see. Driven by this philosophy, Emily Kilgore has spent her seventeen-year teaching career in the pursuit of inspiring young people by creating hands-on, experiences-based classrooms deeply rooted in partnerships with businesses in the region. These partnerships, which include everything from 1-1 mentorship to support of student-created companies, elevate student-learning and build sustainable work-based learning experiences. Currently, Kilgore, a Woodridge High School teacher, is working in the Six District Educational Compact with students from Woodridge, Cuyahoga Falls, Stow-Munroe Falls, Tallmadge, Kent-Roosevelt, and Hudson Schools to teach EntrepreNew Pathways, a program she began to create in 2019. Kilgore is also the Co-Founder of StartUp TradeUp, the mission of which is to bridge the gap between the CTE classroom and the real world by building meaningful, sustainable relationships between the business community, educators, and students.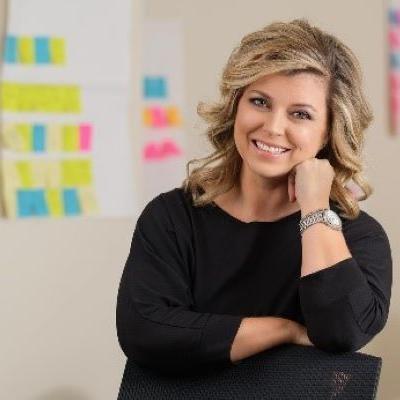 Developing A New Approach to Entrepreneurship Education
EntrepreNew Pathways is a high school program uniquely designed for young people to access entrepreneurship as a viable and meaningful path after high school, regardless of their industry or career choice. The program empowers young people to take their creativity, ideas, and skills and turn them into a successful, repeatable reality. Thus, propelling them into the future workforce where it is expected that by 2027 more than half of the US workforce will be considered freelance. Today's children will no longer have the choice, the rapid changes in the economy and post-pandemic world of work will require all of us to work for ourselves, in some capacity, at some point. It is our responsibility, as educators, to prepare them for this reality. Upon completion of the program, students will be well prepared to meet the future demands of the ever-changing workforce whether they choose to enter college, cultivate a skilled trade, or find themselves with the need or desire to create a business.

Kilgore created the program in collaboration with more than 100 entrepreneurial partners and support organizations around three unique pillars: 1. Extreme Exposure to Entrepreneurs 2. Mentorship 3. Intense experiences on the 14 Global Power Skills needed to build the entrepreneurial mindset. As entrepreneurship has grown and become a driving economic force, I knew that students needed more… a different approach. But as I looked around and shopped for the best entrepreneurship curriculum for my students, I realized that what was out there didn't go far enough to help me with the vision I had for my students' futures. Therefore, I created EntrepreNew from the best of my teaching experiences, deep research into data on the future of work, and the vision of entrepreneurs that echoed the sentiment that they wish they'd been more prepared for practical skills they'd need in their entrepreneurial future when they started.
Later this year, the EntrepreNew curriculum will be fully available and free for other educators to access for their own students, nationwide. EntrepreNew Pathways will give teachers 10 Guidebooks they can use to meaningfully and comprehensively incorporate entrepreneurship in any classroom. Additionally, there will be 10 slimmed-down sets of materials (called Mentor Maps) for teachers of CTE (Career and Technical Education) programs looking for a simple tool to expose students to entrepreneurs in the community or a specific industry. It is developed to be turn-key. Any teacher can pick up these guides and dive in for a full-year program, dabble with lessons that fill gaps in their classroom or give them creative ways to work with businesses in their community to provide meaningful partnerships for aspiring entrepreneurs. It was my hope to give teachers a huge tool belt so they can access what they need, when they need it.
The EntrepreNew Pathways program and curriculum were funded by a grant from the Burton D. Morgan Foundation and hosted by the Woodridge Local Schools as a CTE program in the Six District Educational Compact. The program greatly benefits from a unique partnership with the City of Cuyahoga Falls as well as more than 100 partnerships from entrepreneurs and support agencies in the region.
Bridging the Gap Between the CTE Classroom and the Real World
Kilgore, an entrepreneur herself, is also the co-founder of StartUp-TradeUp, which serves to provide training, support, resources, and inspiration for teachers looking to incorporate entrepreneurship or elevate Work-Based Learning experiences in their classrooms.
In this role, Kilgore's firm also offers professional development, training, consulting, implementation services and keynote speaking engagements for both EntrepreNew and each of the E Series Work-Based Learning programs.
In January of 2022, Kilgore was selected as one of 50 recipients of Walt Disney World Resort's 50th-anniversary celebration to recognize exceptional teachers who are passionate about using the tool of imagination in their classroom. In May of 2022, Kilgore represented the Woodridge Local Schools as she attended a 4-day workshop learning some vital strategies to deepen the use of creativity in the program from Disney leaders.
Kilgore was named Summit County Teacher of the Year in October 2022.
Kilgore is a graduate of 1999 Cuyahoga Falls High School, attained her Bachelor's Degree in Marketing from The University of Akron in 2003 and a Master's Degree in Career and Technical Administration from Kent State University in 2011. Kilgore resides in her lifetime home town, Cuyahoga Falls, Ohio.
Most importantly, Kilgore is the mother of a spirited daughter, Giuliana, and a charmingly
shy son, Giovanni. In her spare time, Kilgore is an avid runner, reads historical fiction, enjoys being
outdoors, and travels twice a year to Siesta Key Florida.